TRADITIONAL POTTY TRAINING ADVICE ASSUMES THAT YOU WILL BE WITH YOUR PUPPY ALL THE TIME. TYPICAL INSTRUCTIONS INCLUDE "TAKE YOUR PUPPY OUTSIDE EVERY HOUR UNTIL SHE IS 8 WEEKS OLD, THEN EVERY 2 HOURS UNTIL SHE IS 10 WEEKS" ETC.....OR "PUPPIES INSTINCTIVELY DO NOT SOIL THEIR IMMEDIATE SLEEPING AREA" SO "MAKE SURE YOUR PUPPY'S SLEEPING AREA IS JUST BIG ENOUGH FOR HIM TO STRETCH AND TURN AROUND." THIS OLD CONCEPT IS DOOMED TO FAILURE FOR NEW PUPPY OWNERS THAT CANNOT BE WITH THEIR PUPPY ALL THE TIME.
WITH A PUP PEE POO PALACE YOUR PUPPY WILL DEVELOP CLEAN HABITS FROM THE START. OUR PATENT PENDING ELEVATED SLEEP AND PLAY LOFT IS SEPARATED FROM THE ELIMINATION AREA AND REINFORCES GOOD PATTERNS THAT YOUR PUPPY WILL REMEMBER AND REPEAT. LEAVING THE PALACE DOOR OPEN WHENEVER YOU ARE HOME ALLOWS YOUR PUPPY TO CONTINUE PUTTING HIS GOOD HABITS INTO PRACTICE BY RETURNING TO THE CAGE WHENEVER HE NEEDS TO POTTY. PUPPIES LOVE TO "GET UP ON THINGS" THEY WILL ALWAYS FIND A BLANKET, CHAIR OR COUCH WHEN IT IS TIME TO SLEEP. THE PUP PEE POO PALACE IS DESIGNED TO TAKE ADVANTAGE OF THIS NATURAL BEHAVIOUR. EVEN PUPPIES STAYING IN THE PALACE FOR THE VERY FIRST TIME INSTINCTIVELY HOP UP ON THE LOFT TO REST.

WHILE EXAMINING PUPPIES I HAVE LISTENED TO THOUSANDS OF NEW PUPPY OWNERS EXPRESS THEIR CONCERNS AND FRUSTRATIONS ABOUT HOUSEBREAKING WHEN YOU CAN'T BE A "STAY AT HOME PARENT." ALSO, KNOWING THAT A PUPPY DOES NOT HAVE CONTROL OVER ELIMINATION UNTIL AT LEAST 12 WEEKS OF AGE, IT IS OBVIOUS THAT THE "CONFINED SPACE THEORY" CANNOT WORK UNTIL AFTER THIS AGE. FOR MANY NEW PUPPY OWNERS HEAVILY USED AREAS ARE THE ONLY OPTION FOR OUTDOOR POTTY TRAINING. THIS CARRIES AN INCREASED RISK OF INFECTION FOR PUPPIES THAT HAVE NOT COMPLETED THEIR VACCINATIONS AND OTHER PREVENTIVE CARE MEASURES.

THE PUP PEE POO PALACE IS THE SOLUTION TO THESE PROBLEMS. OUR DESIGN TEAM INCLUDES A VETERINARIAN, A KENNEL MANAGER AND EXPERIENCED PUPPY OWNERS. WE KNOW THAT PROVIDING YOUR PUPPY WITH A SEPARATE, ELEVATED SLEEP AND PLAY AREA AND ALSO ACCESS TO THE "DESIGNATED ELIMINATION AREA" ARE THE KEYS TO SUCCESS.

THE SUPPORT YOU RECEIVE WITH YOUR NEW PUP PEE POO PALACE ALLOWS YOU TO ASK POTTY TRAINING QUESTIONS ANYTIME, ANYWHERE. YOU CAN USE THE DOCTORPUP.COM FORUM, LIVE CHAT AND INSTAVET MOBILE APP. YOU WILL ALSO HAVE ACCESS TO INFORMATION ON ANY OTHER PUPPY HEALTH CARE TOPIC.

CONGRATULATIONS ON YOUR NEW PUPPY AND ALLOWING THE PUP PEE POO PALACE TO MAKE POTTY TRAINING SIMPLE AND CLEAN. WE ARE HERE WHENEVER YOU NEED SUPPORT.
FOR BEST RESULTS HAVE YOUR PUP PEE POO PALACE READY FOR YOUR PUPPY'S FIRST NIGHT HOME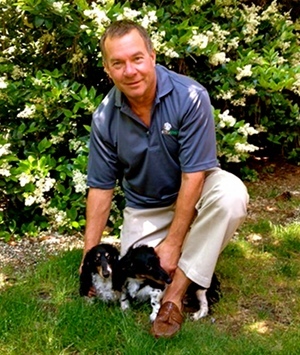 DR. RYBKA GRADUATED FROM THE AUBURN SCHOOL OF VETERINARY MEDICINE IN 1977 AS A MEMBER OF PHI ZETA, THE NATIONAL VETERINARY HONOR SOCIETY. HE BEGAN HIS PRACTICE CAREER IN NORTH GEORGIA WHERE HE PROVIDED COMPLETE AND EMERGENCY CARE FOR COMPANION AND FARM ANIMALS FOR 18 YEARS. SINCE 1996 DR. RYBKA HAS BEEN THE OWNER AND DIRECTOR OF A SMALL ANIMAL PRACTICE IN COLUMBUS, OHIO.

WITH A PARTICULAR INTEREST IN PEDIATRIC MEDICINE AND SURGERY DR. RYBKA HAS BEEN INSTRUMENTAL IN DEVELOPING EFFECTIVE PREVENTIVE AND THERAPEUTIC PROGRAMS FOR MULTIPLE ANIMAL RESCUE GROUPS AND OTHER PET ORGANIZATIONS. PROVIDING VETERINARY MEDICAL CARE AND MENTORING OTHER VETERINARIANS AND STAFF FOR OVER 35 YEARS HAS GIVEN DR. RYBKA A WEALTH OF EXPERIENCE AND CREATED A SOLID, PRACTICAL APPROACH TO PET HEALTH CONCERNS AND SOLVING PROBLEMS.